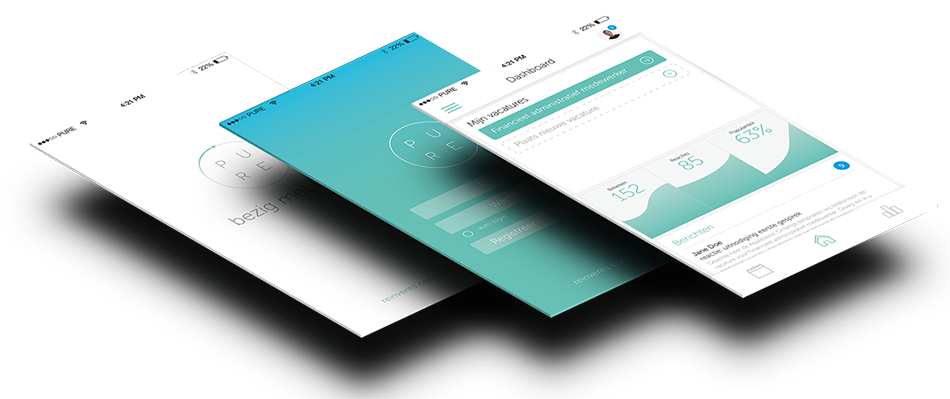 The ultimate recruitment matching-platform.
MATCH EVERYONE. EVERY DAY. WITHOUT LIMITATIONS.
Receive push-notifications from the best matches.
On top of the matches and your business every moment of the day.
Matching on the go.
Real-time updates and 24/7 in contact with possible top-candidates. On top of the business.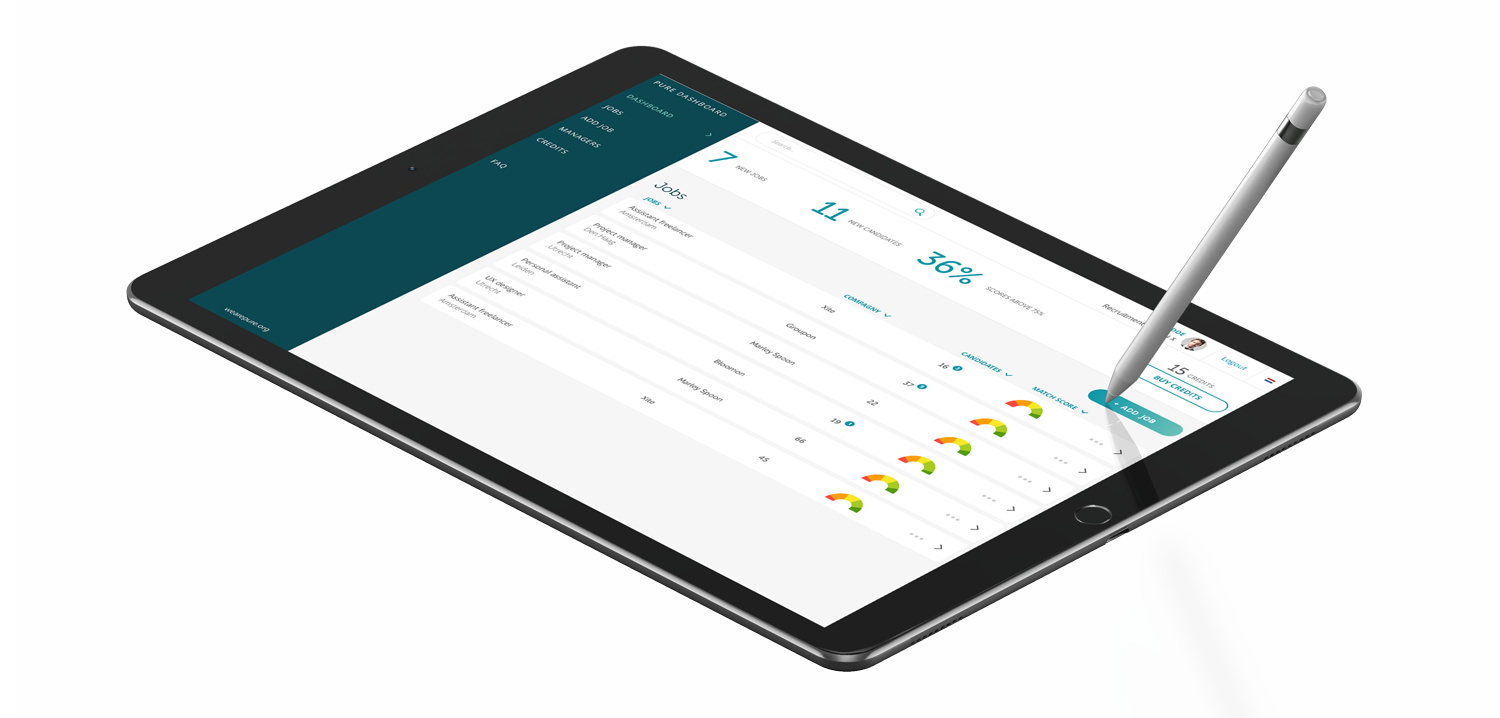 Always acces to all the data needed.
Easy set-up, ready within 3 steps. Assessment is done within 12 minutes.
Let recruiters finally make data-driven hiring decisions.
Instead of going through ten's or hundreds cv's, (not even knowing for sure that the right candidate is between those), you use PURE Matching at the beginning of the selection-process.
Match two persons, applicants, clients (or a team, whatever suit your needs), based on their personality. That's quite unique. So you can see if they can sustainable work together. Simple as that.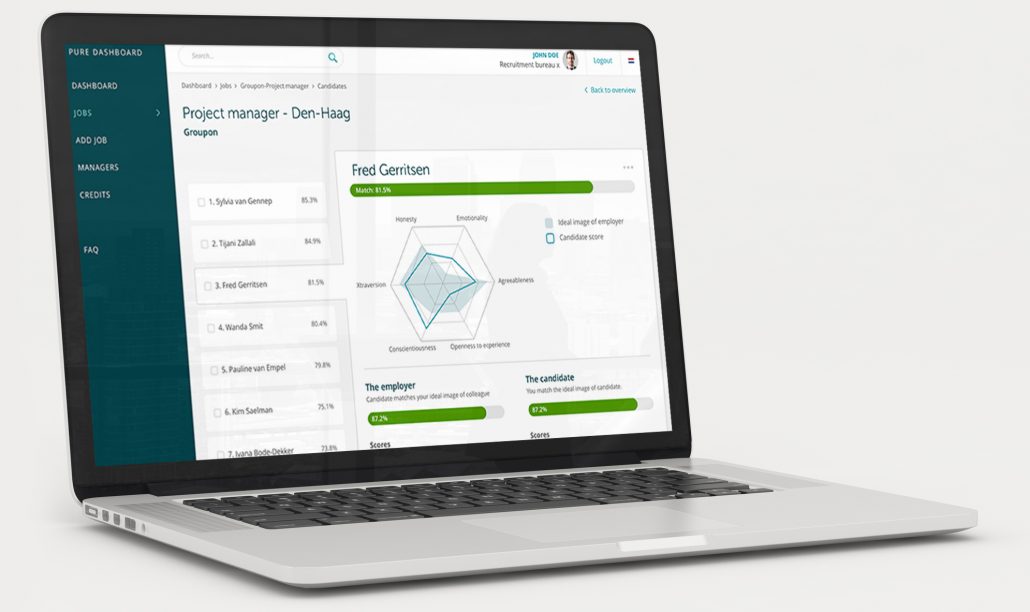 Two personalities. One Match.
Our algorithm can predict a match. Based on neuro-science. We can match your unique personality to someone else to see if you both can work together, sustainable. This is revolutionary.
The only Assessment in the world that matches Personality, not behavior. Quite unique we can say.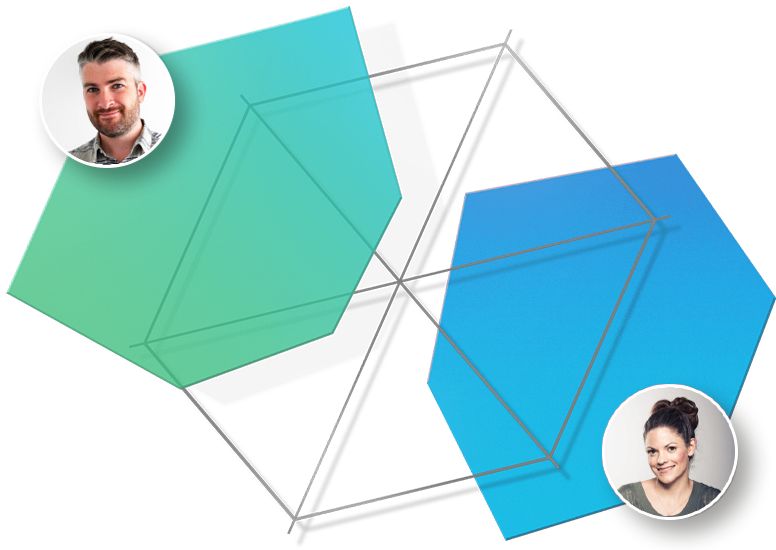 1
Dan, Sr. Manager
Dan is looking for a new colleague. So, he does the PureMatching Personality Assessment. He get's his own analysis and his score will be matched to Jennifer's. He also has set the extra option to aggravate the dimensions 'integrity' and 'honesty'.
2
Jennifer, applicant
Jennifer loves to work for this company, and is excited if she and her potential manager have a match to work together. She answers for herself and how she sees her potential manager.

"From Free to Pro – Made for start-ups, scale-ups, big corporates and everything in between. Depending on the needs, just add a module and off you go!"

"Safe time – Get a selection of the 5 or 10 (you decide) best people for the job, instead of going through hundreds of CV's, letters and emails."



Lift-off with free use for
1 week.
So, you've come to the point of decision probably. Why not give it a try? Join us and let's create history together. Try it for one week, if not convinced: no further obligations.
Just try PureMatching.
Try it for one week. If you are not a believer, no further obligations.
Single credits

Buy when you need it

Support when you need it

Personality reports

2 jobs per month

Unlimited users

Unlimited support

Customized design

Part of BETA program
As many jobs as needed

Unlimited users

Unlimited support

Customized design

Part of BETA program

Easy-to-embed API
As you can see we believe in what we do. And you?
We are Makers
&

Innovators
We have developed a revolutionary algorithm that can match people and predict a sustainable working-relationship. We combine the day-to-day experience of recruitment and staffing with the unique and ground-breaking algorithm we developed ourselves.